Back to reality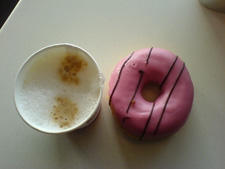 This is the doughnut & coffee that greeted me at Rotterdam airport on Thursday 'morning' after our last night of the lab. I finished reading The Road and set my sights on flying back to London.
Back in London & it is snowing. In fact looking out my window it looks like it might even be sticking around through the night. Daniel flew back from Cuba on Thursday as well & in fact we were heading back into town about the same time. I missed him on Friday as he was still very preoccupied with all things Una Noche . He has been startled by how pivotal a role he has had in his sister's film and feels torn about being away from set. But today he had to fly over to Denmark to meet with Lars Von Trier and the team from Advanced Party 2 before they start the workshops in Berlin next week.
I still have a few things to put together before being in a position to apply for the development funding for our URP project, but it looks like I have a week to get it all together in order to catch Daniel when he gets back. Ideally I can get a few meetings lined up before he has to head back to Cuba again. Of course we have the cinema extreme workshops to fit into February too.
Hopefully I will also be able to fit in working with the Wilson Sisters on their cinema extreme project too, which they were hoping to shoot at the end of February...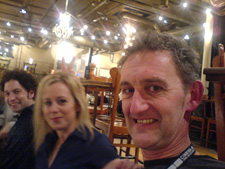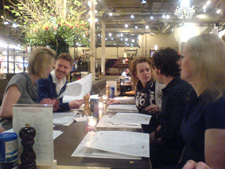 Here are a couple of pictures of our dinner on the last night of the lab. Hank with an 'e', Helen, Corey, Ilse, Lisette, Tristan & Piccollo. Before completely immersing myself in reality it is with a warm smile I remember this crowd. I hope we will all keep in touch. In fact Zoe set up a Facebook page and I hope people will upload some pictures. I didn't bring a camera & only have rubbish mobile pics. I know there are a fare few pics out there, so please send them on!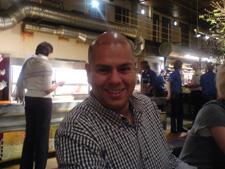 The dinner was at the glamourous Hotel New York where the Rotterdam FilmLab took us for lunch, but hid us away in a room at the back with a few stacks of sandwiches, so we felt that we'd missed out on the experience. We took an exciting James Bond style speed boat ride to get there & it was a great start to a great & memorable evening (albeit a little messy by 6am!).
---
Find out more
We're in production and development so things are always changing. Ohna will be keeping the news page & twitter feed up to date. But if you want to know more please do get in touch!