Mediterranean climate at Edinburgh
Daniel, Arta, Laura and I went to EIFF together. It was great meeting some of the filmmakers (Antonio Piazza - RITA best international short) & catching up with a few of the filmmakers from the cinema extreme workshops, a few who had films in competition too. Fyzal Boulifa, Scott Graham & David Smith, Rosie Crerar & Ruth Paxton was there with PARIS/SEXY, Olivier was there with THOMAS. It was also good seeing Ross Neil there with DEFOE (which won a jury's mention!).
We had a fantastic screening as part of the cinema extreme shorts, then Tony Grisoni & Mike Elliott organised drinks and Jo from Film4 took us all out to dinner to celebrate afterwards.
Last night there was a shorts awards ceremony. It was a feeling of great achievement finally whisking the 1st 35mm print out of Technicolor and jumping on a train, and getting into Edinburgh just in time for the screening! It was an even greater sense of achievement to be awarded best uk short award at the end of the festival. A big thank you to all at the UK Film Council and Film4 as well as everyone who helped us make this stunning film.
The happy result meant carrying a magnum of Moet home on the train this afternoon! Exciting.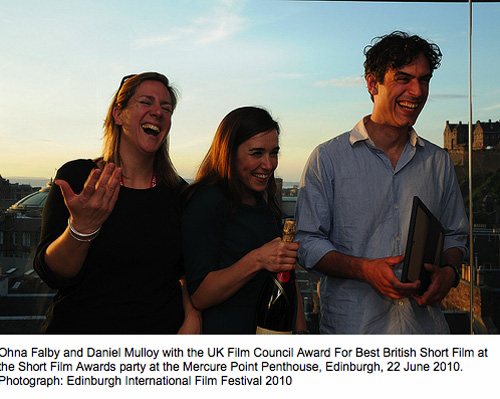 ---
Find out more
We're in production and development so things are always changing. Ohna will be keeping the news page & twitter feed up to date. But if you want to know more please do get in touch!