25 Years of Grouchos
Last night was the final Grouchos party celebrating its 25 years. After that was karaoke night, ending with the karaoke staple Total Eclipse of the Heart - everyone singing their little hearts out (including Tracy Emin). A full night at Grouchos means leaving trusty bicycle behind - of course. I always worry when I do that because the little hooks outside Grouchos mean your bike is barely locked up at all. But on my way in this morning I was greeted by two policemen & lots of blue & white tape surrounding it! What happened there? I thought maybe it was a bit of overkill, but gratefully all the same, I retrieved it & cycled off to work.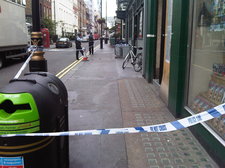 ---
Find out more
We're in production and development so things are always changing. Ohna will be keeping the news page & twitter feed up to date. But if you want to know more please do get in touch!