Bits of culture this autumn & the London Film Festival Critique
Since we got back this summer, we seem to have filled the autumn with fun cultural events. Here's a lovely picture of Apoa and Kiloh at the Almeida where we saw House Of Games & prior to that Ruth Wilson in Through A Glass Darkly which reminds me we also saw a great production of Ruined (although that was before the summer). We also went to see a fantasic expo called Hell's Acre at the Old Vic Tunnels (what an amazing place - it reminded me of Shunt). Here are a couple of pics.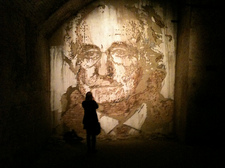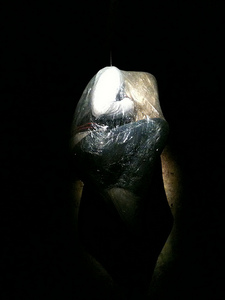 Then of course The London Film Festival's been on and this year I was able to get to see actually quite a lot of films & talks! I think my favourite film was Blue Valentine - I say favourite - but it sure did make me cry! Here's a list anyway of what I saw (if I can remember them all): Never Let Me Go (which I thought was ok, pretty good but lacking in light & shade maybe), Le Quattro Volte (charming & gentle, maybe a bit long), Let Me In (was good, better than I expected, but what did it add to Let The Right One in? Fake snow?...), Self Made (Gillian Waring's film & really interesting, a filmed version of her art work looking into people), Conviction (was good, but a bit classic), The American (Beautiful, but boring neither thriller nor introspective - reminded me a lot of Jim Jarmusch's Limits Of Control but without the amazing De Bankolé etc..), Everything Must Go from Raymond Carver's short story (was also good - Rebecca Hall is in everything indeed & Will Ferrell was really good in this part / Director's first film as well so pretty impressive), Miral (was really good), two versions of peace & mending through education (also in First Grader), The King's Speech (was really good, beautiful & subtle & great performances - not usually my kind of film & I'm no big fan of Colin Firth's but he was really great here / My dad will love this film!), West Is West (a good follow up to E is E & entertaining), Les Amours Imaginaires (this film stayed with me in many ways, this guy is such an intresting filmmaker & soooo young. probably a little control freakery as he seems to write, direct, edit, costume etc etc... reminds me Goddard a bit the way Alexis Dos Santos does - stylish but free thinking. Is this true auteur filmmaking?), Abel (Again a really interesting little film, really liked it - not perfect, but the only film I saw that really made me laugh at lots of points with really clever & well executed moments, really interesting premise), Archipelago (one of those words I can never pronounce properly!) (I hope this director does well, the film had lots of interesting things about it. Although the main thing I keep thinking about are some of her creative choices, like many scenes shot on long lenses but with sound as if very close, but good 2nd film), Black Swan & a talk by Darren Aronovsky (I thought he was great, so down to earth & genuine. I didn't expect that. The film is amazing although not my favourite), The Kids Are All Right (I really enjoyed this - how could you not?! - The cast were all so good & likeable/ not art, but good entertainment), The First Grader (Another really enjoyable film, beautiful & sad but with a positive message), Submarino (Oh my God this film jammed & melted in the screening & took the Odeon 20 minutes to fix - Thomas Vinterberg was not impressed! But otherwise another really good - if harrowing - film), Another Year + talk with Mike Leigh (good film, majorly fantastic performance by Leslie Manville, but Mike Leigh came across as a bit of a pompous ungrateful grump - was this just a bad day or is he always that way?), Biutiful (Good film & Javier Bardem is amazing, very similar theme to Submarino... disfunctional familes & how to survive them. but where Thomas Vintenberg is all about subdued naturalism, Iñarittu is about stylising & going over the top), Somewhere (surprised, but I think a bit disapointed. Seemed empty & void of anything much other than it was stylish, langourous, music great in all of Sofia's films, but what else?), I Malavoglia (An Italian film shot in southern Sicily, where poverty makes life very hard for sustaining families. A modern version of both the famous XIX novel & Visconti's 1940s film La Terra Trema - good but bleak), and finally 127 hours (This film was really good. I wasn't sure I wanted to see the film & sit through the grizzlyness & the boredom of a man stuck under a rock for 127 hours, but i should have known better, not a dull moment).
That's an amazing 20 films!! Just think of all the nights in I can now have instead of going to the cinema....
I had a few gripes with the festival (or the Odeon). There were several really bad projection mistakes and I don't think they were handled very well. In particular the breakage on Submarino & a major recurring out of focus issue in Everything Must Go. Both times the directors were subjected to the torture of seeing their films mangled for large audiences. Really not a nice thing. Also, at pretty much every screening , crowds were let in only when the films started, which meant people would crowd the narrow corridor for up to 10 minutes into the film & you missed the beginnings. Particularly crap when you can't read the subtitles of a language you don't understand! There was a policy to hold industry back from press screenings until the very last minute, I understand press need priority, but this obviously didn't apply to the public screenings and in general just needs a better solution.
---
Find out more
We're in production and development so things are always changing. Ohna will be keeping the news page & twitter feed up to date. But if you want to know more please do get in touch!