Moët & Chandon - Lost vs BIFA won
Last night we celebrated as we won best short at the BIFAs & Daniel and I collected our award and a giant bottle of champagne (c/o of our sponsors) with BABY carefully and beautifully scripted in sparkly gems. What a thrill! We were surrounded by some of the UKs finest independent cinema talents. Helena Bonham Carter and Colin Firth were sat at the table beside us with their successful King's Speech contingent. But within this prestigious gathering, lurked a shameless individual or group of individuals who thought once the free bar closed down at 01:30am (after BIFA's & Moët's hugely generous 7 hours of free booze on tap) that they should help themselves to our BABY trophy and made away with the bottle in a flurry! I'm hoping the wonderful team at BIFA will find the empty bottle amongst the detritus and forward it on to me... Otherwise all I have left is this picture taken by the fabulous Helen Grace.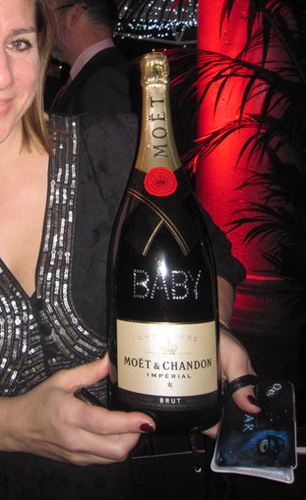 ---
Find out more
We're in production and development so things are always changing. Ohna will be keeping the news page & twitter feed up to date. But if you want to know more please do get in touch!