Autumn updates (Long Distance, Baby, Toxic Camera, Bombay Sapphire…)
Over a year ago since its premiere at the London Film Festival, Long Distance Information is still going strong, not only continuing its festival life (Aesthetica closing ceremony tonight, we're in St Louis, Cork starting today, Helsinki next week, then Barcelona, Rouen....) it has also started its NBCQ national theatrical tour last week with its premiere at the Renoir in London. Next up Manchester Cornerhouse on the 20th November, then York on the 21st, Hackney 22nd, Ritzy 26th, then Oxford, Tyneside, Glasgow etc... Check out their FB app if you want to see when it might be playing close to you. You can check out the reviews too! We've had a great review from Little White Lies, a couple in the Guardian and you can even check the trailer out on Empire Magazine's link.
Another piece of exciting news is that BABY is going to play on Film4. It is having its television premiere TONIGHT (well in fact Monday 12th Nov) on FILM FOUR at 40 mins past midnight! That is on Channel 15 on Freeview Channel 315 on Sky Channel 428 on Virgin Media Channel 300 on Freesat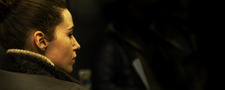 Toxic Camera's theatrical version will be finished off this week, but we've had a great Guardian write up already as well as a Jane & Louise interview! Based on the Whitworth exhibition in Manchester. We had our wrap party at Grouchos last week briefly interrupted by Stephen Fry who walked through to the next bar, and most excitingly Greg McHugh (otherwise known as Howard in Fresh Meat!) looking shockingly well groomed!
Otherwise life goes on, we've survived Halloween and the 5th of November fireworks and I'm enjoying that period when the pavements and streets are covered in leaves which haven't yet turned into slush. We are progressing the Bombay Sapphire shorts and it's exciting seeing the films begin to take shape. You can check out the winners and a behind the scenes film showing the judging process we went through in NYC in September here if you want to find out more.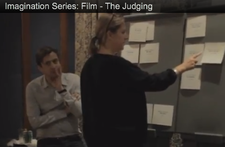 ---
Find out more
We're in production and development so things are always changing. Ohna will be keeping the news page & twitter feed up to date. But if you want to know more please do get in touch!