Grand Prix for Long Distance Information
Doug was touched when the festcourt of Villeurbanne in Lyon announced Long Distance Information was the winner of the grand prix which comes with a juicy cash prize!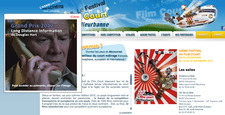 He was up against some really strong competition, so congratulations to Doug and the team!
---
Find out more
We're in production and development so things are always changing. Ohna will be keeping the news page & twitter feed up to date. But if you want to know more please do get in touch!