Gaëlle Denis and Ohna in Cannes
We wrapped on Friday night, spent Saturday returning props, mini-buses and reinstating locations and on Sunday morning first thing we hopped on a plane and here we are in Cannes!
Tired but enjoying the sunshine and the sea. Lots of meetings with Nathalie Algazi and Jakob Beckman on Gaëlle's Torino AdaptLab feature project.
First person we bumped into was the fabulous Robbie Ryan who is here with his dad with a feature he lit called Last Day On Mars. Also bumped into Mark Kozlowski who was working with us on Crocodile - Best DIT in town, looking far more relaxed in Cannes doing meetings to make his own film!
Get in touch if you are here we'd love to join you for a glass of rosé!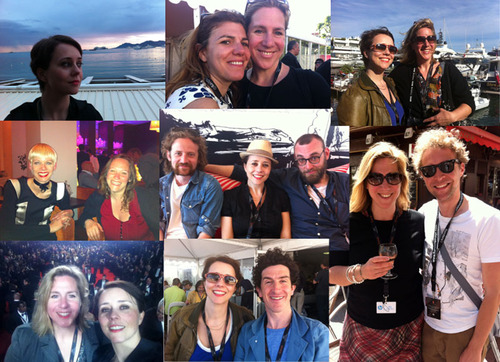 So far we have managed to see 2 films, For Those In Peril by Paul Wright and Baz Luhrmann's Great Gatsby (but we watched it in French!!). We also managed a red carpet evening courtesy of Nathalie and Marie who got us tickets for Only God Forgives, Nicholas Winding Refn's new film with Ryan Gosling & Kristin Scott Thomas. Very stylish and beautiful but pretty boring really, shame.
---
Find out more
We're in production and development so things are always changing. Ohna will be keeping the news page & twitter feed up to date. But if you want to know more please do get in touch!