Back from Sheffield having missed Werner eating his shoe…
... and in fact all three films I had booked to see on Thursday evening as I was happily deflected by the lovely Grant Keir who I discover is now based up in Edinburgh, and who invited me to a boat party instead where Andy Jones and Ashley Horner were celebrating the opening of their new Newcastle based production company called Radio Film, Outsider Art and Maverick International Documentary. There I met Line Halvorsen, a fascinating Norwegian impact producer who, seven years ago, decided to declutter quite radically and get rid of all her belongings and since lives all over the world, house-sitting, cat-sitting, with the sum total of what she can fit into one suitcase. Then Alex Boden from Pistachio Pictures came with a load of beers, and an actor friend (of which there are few at Sheffield Film Festival) who was filming a feature nearby came and we all went out for Vietnamese dinner.
It was also lovely to find Jip Burgess behind the Box Office desk looking very dapper and suited.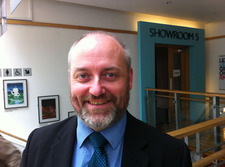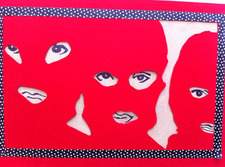 Last seen on his way to Cuba to help out on Lucy's Una Noche or in fact I tell a lie as he also worked on Baby which we shot after. But also we were all briefly reunited with the fabulously talented Ariadna Fatjo-Vilas-Mestre, (also last seen in Cuba whilst editing Una Noche! Small world) and who has more recently been involved in editing all our behind the scenes of Bombay Sapphire shorts films. She has two films at Sheffield that she has edited, The Act of Killing and Melaku Belay. We were just discussing how sad it was we hadn't seen the film yet (Una Noche that is), but I have just found out it will be on at The Barbican 3rd July as part of the East End Film Festival! Can't wait to see it.
I was sad to miss The Pussy Riot film (which was completely sold out) and many more... But hope to catch many of them in the cinemas or other festivals over the rest of the year.
---
Find out more
We're in production and development so things are always changing. Ohna will be keeping the news page & twitter feed up to date. But if you want to know more please do get in touch!