The Undead Sun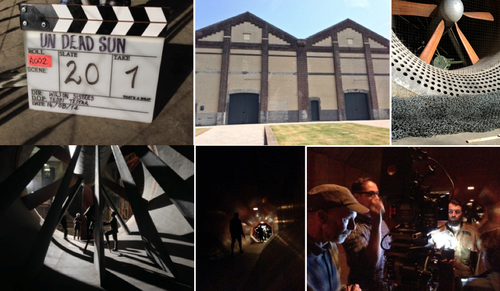 We finished shooting the Undead Sun on Friday a new film by Jane and Louise Wilson which I produced through Film and Video Umbrella. It's a film commissioned by the Imperial War Museum and will form part of their WWI centenary commemorations exhibitions.
Great to have the old Toxic Camera team back together again Teddy Testar, Daniel Brough and Dean Steadman on camera, Daniel Goddard editing, Dave Morgan on 10×8s... And lovely to discover Nicholas Mortimer on production design and model making, Chloe Gross on costumes and Martin Kloud on lights, Joshua Dadson as camera assistant and DIT and genius with the zoom recorder too. We had a great cast too thanks to fabulous fvu production assistant Alix Taylor who found them (Scott Wickes and David Wayman), as well as helping on the production side while at the same time planning and organising her wedding and a film festival in November!
---
Find out more
We're in production and development so things are always changing. Ohna will be keeping the news page & twitter feed up to date. But if you want to know more please do get in touch!