CROCODILE -- Nominated for a BIFA!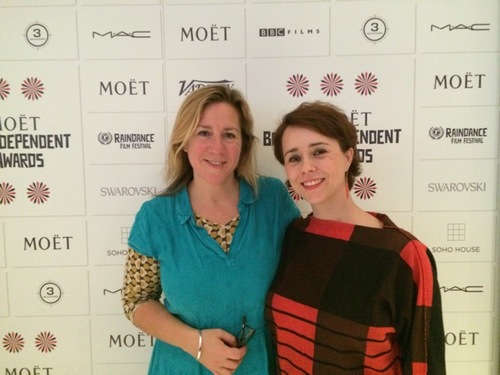 Gaëlle and I (and the rest of the team) are unbelievably thrilled to have been nominated for a BIFA. We are so grateful for the support the film has had, and the amount of incredibly positive feedback we've received. It has been a pleasure to share the film so far and wide already and it feels like the trajectory is picking up more and more momentum. This month alone, we are juggling 'print traffic' between eight overlapping festivals - who knew November was such a popular month!
The announcements were made today at the St Martin's Hotel in Covent Garden and it was great to find ourselves amongst such fabulous people and in competition against such other great shorts! I can't wait for the ceremony in December. I had such an amazing time back in 2010 when Daniel Mulloy and I had the pleasure to be there with Baby. And they are sponsored by MOËT it means lots of champagne celebrations, and you can never have too much of that - or at least so says Antonio Piazza (fellow fabulous filmmaker (maker of Salvo) & winner of much champagne)!!
Keeping Rosy, '71, Catch Me Daddy, The Goob, Lilting - many of the teams from Dinard (X&Y as well...). Lovely to chat to Steve Reeves & Jared Harris who has agreed to star in the next film...
---
Find out more
We're in production and development so things are always changing. Ohna will be keeping the news page & twitter feed up to date. But if you want to know more please do get in touch!