Films | Dinard and the BFI LFF
Creative England offered Gaëlle the opportunity to join a small group of writers, directors and producers to take part in NET.WORK@LFF, an internationally-focused development programme managed and delivered by Creative England on behalf of the BFI during the BFI London Film Festival. Organising this during the festival meant having access not only to industry decision makers, but also to Filmmakers from different countries who generously made themselves available to share their experiences. It was a great few days.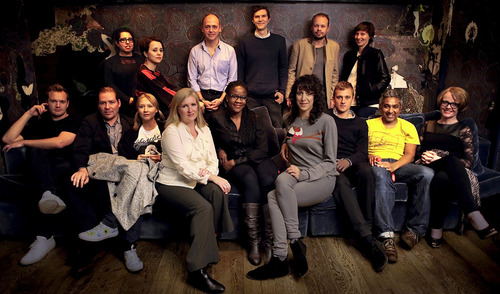 While Gaëlle was busy meeting the likes of Susanne Bier, Andrew MacDonald, David Robert Mitchell... I was invited to Dinard Film Festival in Brittany to view British Films and meet French Producers for our Estuary Girl project.
At Dinard I finally got to see Dexter Fletcher's Sunshine On Leith and Hong Khao's Lilting, which was a beautiful, gentle and strongly emotional film. I also got to see '71 by Yann Demange, which was hugely impressive - especially considering it was also a first film. You really felt you were in there with the soldier, felt the adrenaline and the awfulness of it all. I also got to see Guy Myhill's The Goob which I believe he & Mike Elliott made through iFeatures. Mike had an excellent festival picking awards for The Goob and Catch Me Daddy! I was really impressed with "The Goob", knowing how tiny those budgets are, they managed to pull something off that was really strong and immersive. I also watched Steve Reeve's Keeping Rosy with Maxine Peake in the lead role - very reminiscent of her role in Michael Pearce's "Keeping Up With The Jones".
Going to Dinard is a really special experience. It starts with a flight from City airport straight to Dinard (or was it St Malo) airport. In a tiny plane filled exclusively with Dinard Film Festival guests. It was great getting a chance to catch up with Zorana Piggott who was also invited and to chat with Dexter Fletcher who were all on the same flight. The weather was incredibly beautiful - considering the time of year! And the Brittany beachtown setting is fabulous. The Thalassa hotel where Zorana and I were staying was beyond fabulous!! Although peculiar seeing all the guests in towelling bathrobes all day long!
Essentially you spend a week in an idyllic little town - where Hitchcock used to spend his summer holidays and where apparently the Psycho house was inspired from - watching British films, drinking at the Grand Hotel and mingling with all the filmmakers, cast and members of the jury, and bumping into Catherine Deneuve stepping in and out of black cars with tinted windows in a totally informal atmosphere. It was lovely seeing Michael Radford who was at the festival as a special guest showing four of his films, chatting to Hong Khao and getting to know Richard Holmes from Creative England (who had produced Keeping Rosy) and the girls from Directors UK (Rosie and Abi) who just gave us our Channel4 award at Encounters.
It was a welcome pleasure to be out there and I got back to London to still catch a few films at the BFI LFF. Notably I saw Foxcatcher (which felt like it could have come out of Jon Ronson's Psychopath Test book) and Whiplash which was a very cool film & the director's first feature. The film is about the relationship between a gifted drumming student and his teacher / mentor who is a legend at the conservatoire (but is also bordering on psychopathy). I wasn't sure if Whiplash was going to be a success 'Fame'-type film all about the 'spectrum' student in a fame academy or about an abusive relationship - but it turned out to be about a range of things covering that & more. I also got to see Xavier Dolan's Mommy and Céline Sciamma's Girlhood which I missed in Cannes. I'm a big fan of both of theirs and both films were great. There was a Q&A with Céline Sciamma run by Lizzie Francke & she came across incredibly well. Great to finally see The Tribe which I also missed in Cannes, but I must say I'm not quite sure what I think about that film. Bold and brave for sure, but I think probably needed a Q&A after that to make sense of it all. I also got to watch Rebecca Johnson's Honeytrap her first feature film which I really enjoyed. It will probably be compared quite a bit to Girlhood as there are so few films we get exposed to here with young black women as main protagonists.
---
Find out more
We're in production and development so things are always changing. Ohna will be keeping the news page & twitter feed up to date. But if you want to know more please do get in touch!