Kingston degree show | June 2015
And there it was - the end of 4 years illustration and animation degree at Kingston University. An absolutely frenetic few months getting everything finished on time - and ultimately not everything as some of the items planned for the exhibition never quite made it on time! The end of an era and the beginning of a new life.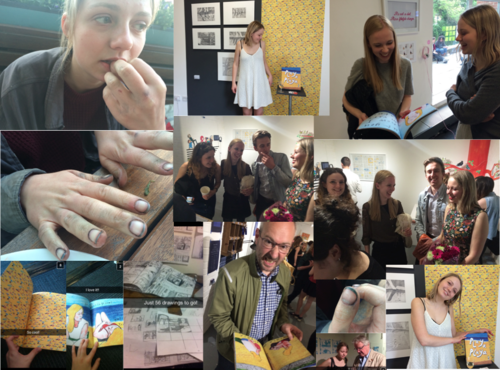 There was a great turn out both in terms of the students and all their work - but also in terms of friends, family & industry coming to see what they had all done. Some really interesting animated films to watch as well, lovely to see Chris Shepherd there, animation director & Kingston tutor.
I loved watching Anna read Playa Playa and relive those moments in Portugal. So great Apoa's put it all into a most beautiful graphic novel. She's so talented it makes me super proud of her!!

---
Find out more
We're in production and development so things are always changing. Ohna will be keeping the news page & twitter feed up to date. But if you want to know more please do get in touch!