Looking back at 2015 - Labs Workshops Markets Europe
With the new year ahead of us, I was looking back on 2015 and taking stock of all the events and progress made. I had the great fortune of being accepted onto two wonderful labs, and Cinemart and Producer's Network at Cannes (thanks to Marit Van Den Elshout of Cinemart), which meant great progress and growth for me as a producer and my feature projects - and, well - a lot of lovely travel thrown in.
Gaëlle and I started the year last year presenting La Fille de l'Estuaire aka The Girl from the Estuary at Cinemart in Rotterdam. It has been an ambition of mine to go there with a project since 2009 when I participated in the Rotterdam Producer's Lab. It was a great experience, the team were so supportive, the size and centrality of the festival (and the inclusive canteen lunches) make for a very convivial experience as well. Pitching the project back to back 30 times in a row over the course of three or four days also gave us so much clarity about our story, our drive and working out what was important to us. It was a really positive way to launch into the new development period with the support of Creative England, and consultancy script editor Franz Rodenkirchen.

I also participated in the Maia Workshops, which involved three one week workshops for emerging producers, with three different phases of focus. The first (in April) was called Creative Aspects which focused on why you might choose to produce a particular story or script, how best to develop it, what basic things you need to take into account before you get started and how to manage the key relationships within the process. I believe I already wrote an entry about the first workshop which took place in Sardinia, so I won't go on again about the fabulous 5 star setting, the abundancy of amazing fresh Sardinian meals, the pink flamingoes and the fabulous team. The second workshop was set in Lithuania in July, in an eco resort by a lake in the woods in Trakai, near Vilnius. This workshop was called legal and financial issues and I think the title is self-explanatory. With this being the middle workshop, I think all the participants really bonded during this week, and the atmosphere was really special, maybe also knowing everyone would meet again soon. The week kicked off with Italian producer Carlo Cresto-Dina who showed us his film Le Meraviglie (The Wonders), and then told us a bit about his various producing experiences including the woes of producing arthouse films nowadays. We had sessions on successfully completing Media applications with the tutelage of Lithuanian Media representative Eva Brazdžionytė and our producing mentor Danijel Hocevar who used one of his project applications to walk us through it all (which later turned out to be a successful application so congratulations to him!). We had a session on Business pitching with Juliane Schulze who i had already met through the Peacefulfish Closing The Gap workshop in Berlin which involved colour post it notes and plastering the walls in posters.

We had a rather raucous and memorable coproduction session under the mentorship of German Lawyer Stefan Rüll. I'm not sure it went very well. Imagine Nikita Kruschev and a banging shoe. But it was fun and I still laugh when I think of my Lithuanian partner (Klementina Remeikaitė) shouting at our "Polish coproducers" that they were weird, and I will have enduring memories of raised voices and waving fists at Liljiana Djuricko ("from Poland") and Daniel Krueger ("from Germany"). Somehow we still managed to remain friends afterwards! And of course we had our fabulous group work on scripts and development with our invaluable leaders Danijel Hocevar and Alejandro de la Fuente, as well as a fun tour of Vilnius.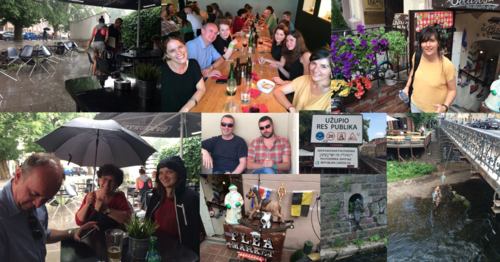 I loved the arty bit of town (Užupis) where they had their own independent republic cordoned off, bordered by a river and full of hippy types hanging out drinking, painting and playing music. The third workshop was set in Bologna in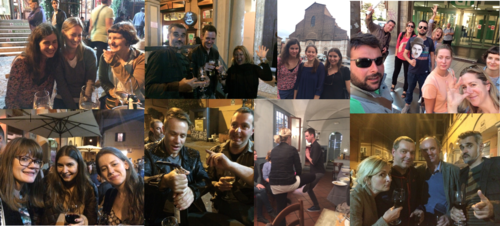 September, and was called marketing and distribution - and again self explanatory! Beautiful old university town, full of students out late night drinking in the streets - although they seemed to have quite a strict 'everyone off the streets at midnight' policy, at which point everyone crammed inside bars.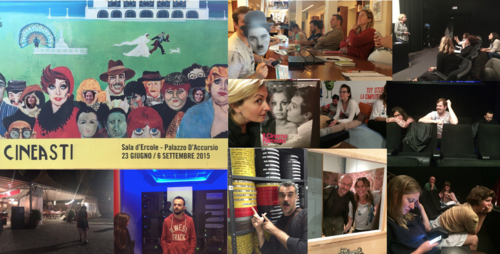 There we were mainly based between the impressive Biblioteca and Cineteca di Bologna. This week was definitely my favourite of the three in terms of what we did, what we learnt and how it progressed me and my project. For sure we were looked after like Kings and ate fabulously every day and evening. We became very familiar with Nonno and Nonna (who sat at the same table every evening)'s pasta and risotto.

We had a great day with Peter Jaeger from Autlook Film Sales. The next day we had Linda Beath back, who had us working on finance plans - which was great for me, and it was great fun working with Liljiana on that. We had the pleasure of meeting Mathias Noschis from Alphapanda who as well as telling us all sorts of stuff on marketing strategy, was lots of fun to hang out with. And the lovely Cynthia de Souza from The Works tutored us on the last day and oversaw everyone's pitches. It was great to get her positive energy as well as the British perspective, as I'm generally the only UK person in these things and we come at the whole coproducing thing from such a different angle. Francesca van der Staay had also joined the Maia core team, and she was a lovely welcome addition too. For me a special bonus of the week was that when I pitched The Girl from the Estuary in our group work, I now had the incredibly helpful addition of the stills we shot, with the photographer Stuart McCarthy and Lowri Jackson as our "Nathalie" and our mega-find Cressida Lorenz as our "Marnie" for the Torino Film Lab (coming up the next month). The group responded really well and fellow participants Michal Kráčmer and Magda Puzmujzniak (who have been hearing me pitching over the past 10 months) finally GOT the film and loved it!! Hoorah - ready at last. It's incredible how important images are to complete the picture!! As a bonus, Graziella Bildesheim - who is in the instigator of the Maia Workshops - also invited us to Rome in October during the Film Festival to experience the MIA market and participate in a workshop there too. So great to be in Rome and a fabulous opportunity to dine with JB Babin (who I hadn't properly reconnected with since Rotterdam 2009) and Claire Launay from Arte. I must say there was a bit of a heavy heart at the end knowing we might none of us ever see each other again - although - as it is in this game - the likelihood is that we should at least all see each other at Berlin or Cannes every now and again, and who knows in each others' home towns or on future coproductions together. Well that's the aim after all! I have already connected my Serbian writer Gorana Jovanovic (met at Nisi Masa last year) with Serbian producer Liljiana Djuricko - and who knows what collaborations might therein lie!!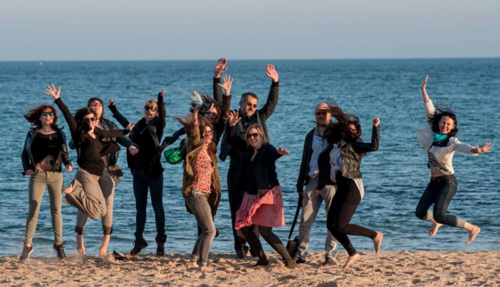 Gaëlle and I also were awarded a place on the Torino Film Lab's Framework which rounded the year off beautifully in Torino at the end of November. We had a workshop for a week in Motovun in Croatia at the end of July - in a torrid heat wave unfortunately: 40 degrees without air conditioning. The picturesque little medieval village at the top of a steep hill in Istria is infamous locally for its film festival (and its olive oil), but our workshop ended as the festival began. I imagine it would be a fabulous experience for young filmmakers as the town is literally invaded by filmmakers and fans and makeshift cinema screens and people who stay up drinking and listening to music all night long. The Motovun week was an opportunity to meet the 8 other selected teams, and to work with Franz, our script consultant in face to face sessions - refreshing alternative to skype meetings. There were 4 script consultants (Franz Rodenkirchen, Antoine Le Bos, Marietta Hausswolff von Baumgarten and Leonardo Stagliano), two producers (Jean des Forêts and Cedomir Kolar), a pitch coach (Stefano Tealdi) a casting director and acting coach from France (Tatiana Vialle), a DOP from Croatia (Branko Linta), and a sound designer from Denmark (Peter Albrechtsen) and of course Matthieu and the TFL organisers. It was great getting to watch each other's previous short films on a giant outdoor screen. Fascinating seeing Laszlo Nemes's short (With a Little Patience) having seen Son of Saul in Cannes. The same camera work, seeing the holocaust from a very different perspective. It was very hard-hitting but beautiful and artistic - really amazing in fact. It was also wonderful seeing I Like Nora, Aramisova's fabulous short film. We were there only because the young Slovakian director Aramisova had a seizure and died not long after Cannes and so they came back to us to fill his place. Michal from Maia was producing that project. Strange and horrible situation.

Motovun was a slightly subdued week overall. In the evenings everyone pretty much disbanded to their various rooms, generally only Marietta, Jack, and Charlotte stayed up for a drink and a chat before bed. Was it an element of competition maybe, with directors vying for prizes? The mentors weighing each other up against each other? Maybe the heat had something to do with it too. It was good speaking with Jean des Forêts - hard to glean the information I was after, but he gave me some very insightful feedback on my project which was useful.

So really I'm not sure how useful that week was for me considering it meant having to miss my shoot, not being there for Rachel and sacrificing my fee to be in Croatia. However, Rachel did brilliantly and Blyth Read stood by for me super efficiently in Scotland, and it was great getting to know some of the other filmmakers (Jack Faber, Danilo Caputo, Charlotte Vincent, Trent and Koutaiba Al-Janabi, László, Clara Royer, Matthieu Taponier...). On the day we were flying back the mini bus took us to the airport in Ljubljana early in the morning but our flight wasn't til later in the afternoon. So Jack and I went into the town to do some touristing. After all that heat there was a major thunder storm and downpour - like the skies had burst. Danijel was away unfortunately, but he super kindly organised for his driver to pick us up from the train station (where we left our luggage) and take us to the airport - at which point the sun came out again (More Maia love).
The Torino leg of Framework was fantastic! A week of tutorials, mentorship, inspirational talks, guidance and in general gearing us up for the pitch and beyond. One of our first sessions was with Chilean director Alejandro Fernandez Almendras. We sat in a café and discussed his thoughts and answered his questions about the script. A very very useful session full of invaluable helpful insights. Next up we watch some of the teams pitch and listen to Marten Rabarts give feedback. Again greatly useful. Then we had a session with Katriel Schory (from the Israel Film Fund who Gaëlle had met on the Jerusalem Film Lab) which was also great. Katriel gave us insight into the script, our partnership and various aspects moving foward, particularly interested in us as a female team and our very strong female protagonists in the film. Then we met with Niko Remus, who is a post production supervisor and this too was great. He is a part of EP2C which is is a project based workshop dedicated to post-production management, mainly designed for producers. Gaëlle and I had to complete a questionnaire addressing all the technical, financial and artistic post-production challenges that lie ahead - and the great thing was that this was the first time we really sat down an focused on this in earnest. We usually spend so much energy on the writing and the packaging, and the positioning, the audience, the money, the marketing - none of which feels very real or tangibly about your actual film. Preparing for and then talking to Niko was so rewarding and refreshing, and it took us both into a place where we were really making our film, and thinking about all the problematics around that.
All of these lectures, discussions and meetings went towards preparing us for our jury interview. The panel was: Paula Astorga - festival artistic director from Mexico, Benjamin Domench - producer from Argentina, Atiq Rahimi - Paris based filmmaker from Afghanistan and Fien Troch - filmmaker from Belgium. I thought the interview went really well, and I felt we were very well prepared by the time we got there. I'd say it was probably very close with 9 very strong teams and projects and probably very hard for the jury to make their final decisions. I don't know what we could have said that we didn't say - or what we might have held back on, as at the end of the day we didn't win the jury prize, however it was a really good experience and makes me feel very confident moving forwards. Winner was Jack Faber, and his producers Amir Harel and Ewa Puszczynska who delivered a really impressive pitch with a genius teaser. Well done to them and I look forward to seeing the film once it's made!
I was also super happy that our French coproducer Nathalie Algazi could come to Torino in time to help us with our pitching performance and take part in the one to one meetings with us. And Marie Sonne Jensen also from La Voie Lactée was there too. They had an airbnb flat near the Scuola Holden and so we were able to go back to theirs for practice.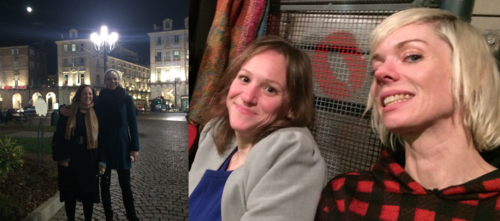 In the end, I think perhaps the most helpful pitching practice came from the two private sessions we had with the lovely and insighful Ido Abram, the second of which Nathalie and Marie joined in. In any case the experience of standing up in front of 200 people and pitching them the project probably means anything after this will be a piece of cake!!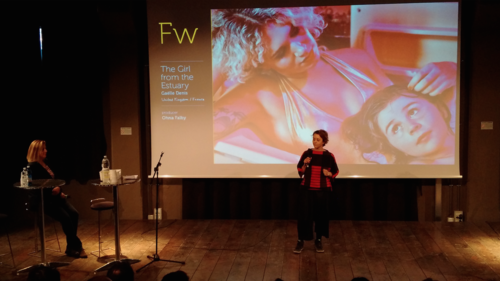 In any case we did still win a couple of prizes! The EP2C award for me (which I am very excited about) and the Production Minds Award for Gaëlle.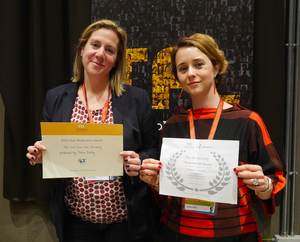 And most importantly the one to one meetings went really well, and I believe in 2016 we will probably be tying knots with people we have met thanks to these labs and workshops for sure. So many more enduring memories and experiences emerged out of all this but I've already written so much in the entry that it probably cause my little website to implode!!
---
Find out more
We're in production and development so things are always changing. Ohna will be keeping the news page & twitter feed up to date. But if you want to know more please do get in touch!