Berlinale | Nespresso has invited Gaëlle
Gaëlle has been busy in Berlin this week helping Nespresso as they announce their inaugural Nespresso Talents 2016 contest, a vertical film contest. Nespresso is an Official Partner to the Cannes Film Festival and in particular La Semaine de la Critique since 2011. We had the distinct pleasure of benefiting from this sponsorship with Crocodile in competition there in 2014. They had the best beach venue there. Nespresso Talents 2016 was announced at the 66th Berlinale, Berlin International Film Festival. The contest is open for entries from 7th March until the 10th April 2016 on Nespresso.com/talents and has been formed to find extraordinary talent and provide them with a platform to share and celebrate their work.
And low and behold she has been spotted hob-nobbing with Daniel Brühl!!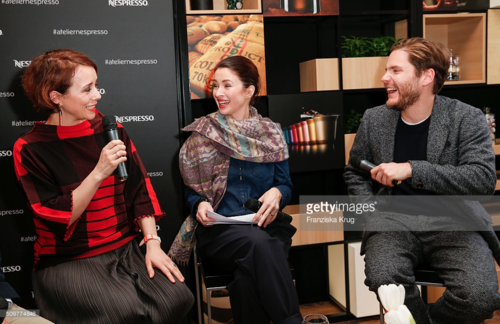 How great Eva Weber was also selected as a jury member for their competition - they can hang out together!!
The contest is looking for entries that challenge the conventions of storytelling and creatively bring to life the creative theme of "Explore Your Extraordinary". The three winners selected will have the chance to win (but not only!) an exclusive trip to the world renowned 2016 Cannes Film Festival, where the selected will be formally announced and celebrated.
Nespresso has a long tradition of supporting talents in different fields, such as film, design and gastronomy. As co-partner of Berlinale Talents, Nespresso expands its support for talent development and soundly complements its engagement in film. At Berlinale Talents 2016, Nespresso launches its vertical video competition Nespresso Talents 2016 with an international jury Gaëlle Denis (President), Alfonso Gonzalez, Erik Schmitt and Eva Weber. In addition, Nespresso hosts an Early Bird Breakfast followed by a Talents Circle.
---
Find out more
We're in production and development so things are always changing. Ohna will be keeping the news page & twitter feed up to date. But if you want to know more please do get in touch!