Sarajevo Film Festival
It's been a busy summer producing Jane and Louise Wilson's Undead Sun2 and finalising the French version of the Girl from the Estuary script. Great news from the Brittany Fund, so our financing is progressing really well but not much time for holidays! So how fabulous to get the opportunity for a little trip to the Balkans.
Because it's been so hard to get writer Gorana Jovanovic into the UK to work with director Kyla on the Cockatoo Inn script together, it seemed opportune to use the Sarajevo Film Festival as a backdrop for us getting together to update the script for the feature and the short on that project - particularly now that we have heard back that we are still in the running for some great opportunities.

Gorana proved to be an invaluable guide and it was wonderful hearing detailed hitorical facts while visiting the city, the tea houses - where we had to take refuge from a sudden downpour, the mosques and old town as well as all along the river.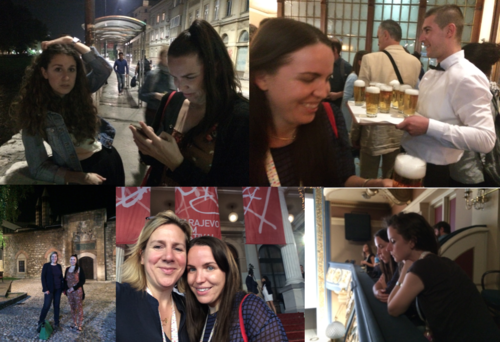 It was also great to meet up, catch up & hang out with some of the Maia 2015 gang, many of whom were there including Danijel Hočevar (who had a project as part of CineLink co-production market), Ljiljana Djuricko (who was there with her husband Nikola Đuričko (who was there as part of the jury), Dejan Krajcevski, Sergei Serpuhov and David Lusicic (who was there with a film Transmania ). Also Juraj Krasnohorsky with his wife Danka Krasnohorska, and Luka Venturin and Jure Pavlovic (also Maia) and who made fab short Picnic - also with a feature project in Cinelink.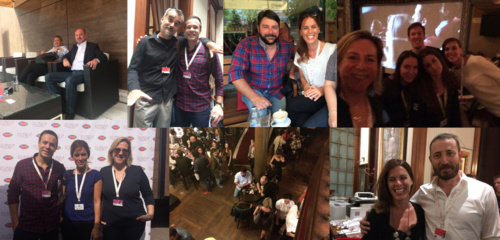 It was also great getting to meet GL's Lizzie's boyfriend Tom who writes for Screendailies, and to see Fyzal Boulifa out there - even though we failed to really catch up (which is a shame as he's living in Paris now), and the king of the dance floor Jan Naszewski who was also jury member at the festival. And briefly Antoine Le Bos, Stefano Tealdi, and Sanja Ravlić (from Croatian Film fund).
And last but absolutely not least - I saw two films while I was there and so pleased I did. First surprise was to see Mike Goodridge of Protagonist presenting a film called The Fits by Anna Rose Holmer. This film was about an 11 year old girl drawn to dancing and fitting in - so no mystery why I chose that screening. So glad I saw it, it was a super interesting, beautifully atmospheric film!! Also made through the Venice Biennale College Cinema, so great to see what's possible within the constraints imposed by tight budget and schedule.
And of course I had to see Godless, Ralitza Petrova's film. Having heard so much about the film, from its beginnings at Le Groupe Ouest alongside Gaëlle as these projects were born, to our initial French producer visits in Paris and hearing all the difficult stories that occurred in the middle of shooting - I was not disapointed. Ralitza is super talented and the film is so strong (albeit not joyful!!). I am so glad it is beginning its festival life with a bang. Premiered in Locarno it won both the Golden Leopard & prize for best actress. And here at Sarajevo it won SPECIAL JURY PRIZE and HEART OF SARAJEVO FOR BEST ACTRESS for Irena Ivanova who was amazing. She reminded me of Renée Jeanne Falconetti Joan of Arc in Carl Dreyer's film. I expected Godless to be dark and bleak, but I was gripped, moved and captivated right the way through to the end. Congratulations to Ralitza, her producer Rossitsa Valkanova of KLAS Films and the team. It goes to show with strength and resilience and a whole lot of talent you can do wonders.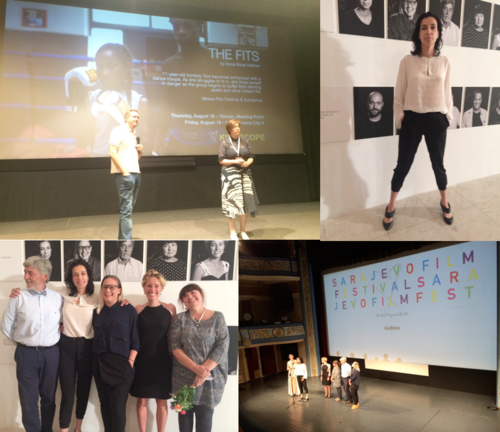 Find out more
We're in production and development so things are always changing. Ohna will be keeping the news page & twitter feed up to date. But if you want to know more please do get in touch!