Rachel Maclean in Venice
Very exciting to be going to Venice today to see Rachel Maclean's Scotland + Venice show Spite Your Face which looks like it's going to be amazing!!! Of course everything Rachel does just IS amazing - and extraordinary to see how it will work in that beautiful old church.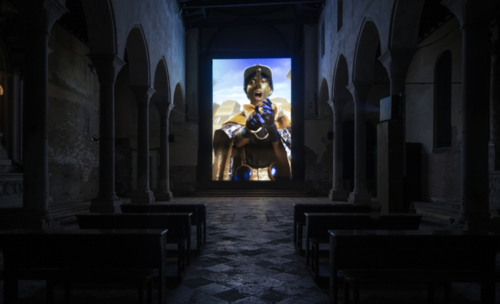 I haven't been to Venice since I was 11, so I'm also very much looking forward to strolling around the canals and seeing some of the art exhibitions that are on there during this year's Venice Biennale - we'll see Damian Hirst's comeback Treasures from the wreck of the Unbelieavable, and maybe there will be time to drop in and see Cerith Wyn Evans at Lorcan's Gallery and Nancy Foutts exhibition as part of Gavin Turk's COLLECTION - all in Venice Biennale...
Find out more
We're in production and development so things are always changing. Ohna will be keeping the news page & twitter feed up to date. But if you want to know more please do get in touch!